We have a great program called "Keeping Our Promise" that might interest you. The Heritage Club (YMCA Endowment) started this program in 2000. This program has grown to provide two to four youth a scholarship to the YMCA for one year to every USD #457 elementary school, two intermediate centers, two parochial schools and the Holcomb elementary schools. I would love to have you help this year with this fantastic program! Last year we awarded 55 youth this membership and let me tell you the excitement they displayed was amazing.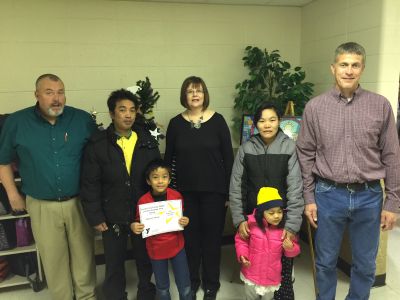 For only $125, your organization can provide a deserving youth a year membership to the YMCA. The excitement on the faces and in the eyes of these children when they receive their FREE membership for the YMCA is truly magical. Currently, each school has their teachers nominate a deserving youth from their school based on the following criteria:
Financial need (family may not be able to afford the membership normally)
Cooperative
Always willing to try and work hard
Exemplifies YMCA core values: Honesty, Respect, Responsibility & Caring
Exhibits perseverance
Shows spirit of determination
The teacher feels this will improve the child in spirit, mind and body
Must maintain a "C" average (special recommendation from a sponsor)
Will be able to use it (make sure the parents can get them there)
In December, the YMCA Board President and CEO deliver the certificate and application for membership to each individual child in front of their entire school as a YMCA Christmas gift! Parents are invited to attend, take pictures and share in this special moment their child has earned. In addition, your company will be recognized for your contribution through an ad in the Garden City Telegram, on the YMCA website and through a certificate presented to the deserving winner at the school. The gift is tax-deductible.
This program is made possible through sponsorship from friends of the YMCA and local companies like yours. Please strongly consider making an IMPACT in our community and a child's life. Upon your request, the YMCA would be more than happy to present this in more detail to your organization. If you have any questions, feel free to contact me at the YMCA at 620.275.1199 or by email at cknight@ymcaswkansas.org.
Problems? Click here to load the page in a new window